So thrilled to share that my 2023 Year of the Rabbit / Cat Lunar New Year Collection has been featured on Buzzfeed's 40 Lunar New Year Goodies You Can Get From API-Owned Businesses list! You can find my Year of the Rabbit handmade vinyl stickers, sticker sheet, and red envelopes in the shop.  © Kristina Yu ✺✺ MORE FUN STUFF ✺✺-----------------------------------⊷ Visit my official website for US Domestic orders. Visit my Etsy shop for International orders.⊷ Follow me on Instagram @cheeryhumanstudios⊷ Become a member of my Cheery Club (Monthly digital downloads, stickers, and snail mail) - ko-fi.com/cheeryhuman
---
You're invited to a free virtual Zoom event! Take a break from all the madness and join my good friend Kimberly Taylor-Pestell of Lacelit and I for a very special (and free!) Zoom event: Self-Care for the SeasonSaturday, Nov 27 @ 11am-12:30pm PSTRSVP to the Event Activities Exclusive printables Giveaways (and most importantly...) fun & relaxing times with a cheery community of people I reached out to Kimberly @lacelit a few weeks ago about an idea I had to create a relaxing and fun virtual event as a way for us to show our gratitude to all of you- our friends,...
---
• DIY • Kindness Card • Printable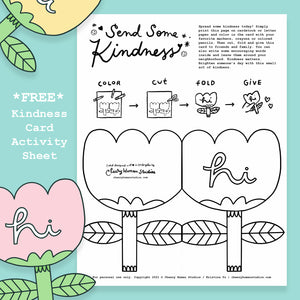 I created a Send Kindness Printable Flower Card in celebration of World Kindness Day 2021. Spread some kindness today! Simply print the page on cardstock or letter paper and color in the card with your favorite markers, crayons or colored pencils. Then cut, fold and give this card to friends and family. You can also write some encouraging words inside and leave them around your neighborhood. Kindness matters. Brighten someone's day with this small act of kindness. Download the printable here
---
• Art • Autumn • Event • Fall • Halloween • Popshoplive • Sticker Sheet • Stickers • Work in Progress
Some cozy Fall season sneak peeks featuring ghosts, magic, gourds, and mushrooms. Plus, some info on my next Popshop Live Show!
---
• Announcement • Ko-Fi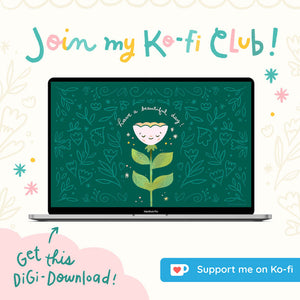 Get access to exclusive behind the scenes content (like new project development, sketchbook snapshots, and other fun stuff), my brand new bi-weekly audio newsletter, snail mail and more by supporting my work through monthly donations. Every membership tier has something fun to offer as a token of my gratitude for your support including exclusive content and snail mail!I just posted episode 2 of my audio newsletter where I chat about my thoughts on social media + creativity as well as some upcoming projects.  You can also get August's digital download by signing up to be a Digi-Download supporter. Sign up here.  ...